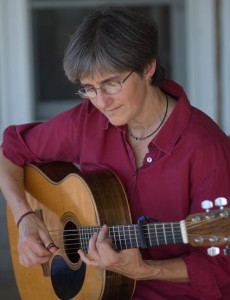 Cindy Kallet is a songwriter, singer and guitarist with five solo albums to her credit: Working On Wings To Fly and Cindy Kallet 2 on Folk Legacy Records, and Dreaming Down A Quiet Line, This Way Home, and Leave the Cake in the Mailbox – Songs for Parents and Kids Growing Up (chosen for the 2004 Parents' Choice Gold Award) on the Stone's Throw Music label. She has also recorded three trio albums, Angels in Daring, Only Human, and Heartwalk (Overall Music) with Ellen Epstein and Michael Cicone, as well as a collaborative effort with Gordon Bok entitled Neighbors (Timberhead Music).
For over a decade and a half she has been joining musical forces with Grey Larsen. They have recorded two albums together, Cross the Water and Welcome Day, as well as a single, Back When We Were All Machines.
Cindy has taught and performed extensively throughout North America. Her love for the natural beauty of the New England coast has been the inspiration for many of her songs. In 2003, she put together THE CINDY KALLET SONGBOOK – A Collection for Guitar and Voice, published by Stone's Throw Music. It contains words, music, chords, and guitar tab for 32 original songs.